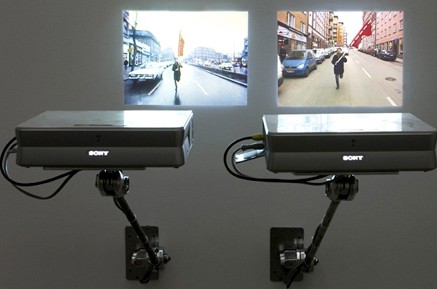 Using unobtrusive visual techniques, Felix Gmelin explores in his work on video and his paintings the pictorial symbolism of politics, the idea of utopia and radicalism. By comparing the political movements of the late 1960s with the activism of today, he enriches the complexity of political debate and reflects the significance of history and its presence in contemporary life. The works become both private and universal to the extent that he – like an entire generation along with him – has to relate to the inheritance of the revolutionary era.
Flatbed, the Blue Curtain shows five painters attempting to copy Pablo Picasso's Guernica from 1937. The work has been filmed in negative which creates an aesthetic of surveillance and suggests the images on monitors at luggage inspection checkpoints at airports. The almost four-hour long video translates a real-life action campaign, in which peace demonstrators copied Picasso's famous work as a protest against President Bush and the war in Iraq. This event was preceded by the concealing behind a curtain of the woven reproduction of Picasso's celebrated anti-war painting belonging to the United Nations in 2003, prior to a speech by Colin Powell about the necessity of an invasion.
In his latest project Gmelin makes use of a Swedish information film about sex education from 1970, in which a pedagogue supervises a group of blind pupils as they study the genitals of two young people. The film appears to herald the objectification of the body in our contemporary media society and raises questions about sexual liberation and equality. But also about integrity. Who are really the blind in this drama?
Felix Gmelin
Born 1962 in Heidelberg.
Lives and works in Stockholm.
Education
1983–1988
Royal University College of Fine Arts, Stockholm
Selected solo exhibitions
2005
Felix Gmelin: Revolution II, Portikus, Frankfurt [DE], Malmö Konstmuseum, Malmö.
2004
Milliken, Stockholm and Maccarone Inc., New York [US]
Selected group exhibitions
2006
Berlin Biennale 4, Berlin [DE]
2003
Delays and Revolutions, Italian Pavilion, 50th Venice Biennale, Venice [IT]
2002
Iconoclash, Beyond the Image Wars in Science, Religion and Art, ZKM, Karlsruhe [DE]
Selected bibliography
David Rimanelli, Daniel Birnbaum and Ronald Jones, Felix Gmelin. The Aging Revolution, (exh. cat.), Robert Stasinski (ed.) Portikus, Frankfurt am Main, Malmö Konstmuseum, 2005.
Sophie Allgårdh/Estelle af Malmborg, Svensk konst nu. 85 konstnärer födda efter 1960, SAK/Wahlström & Widstrand, 2004.
Holland Cotter, "Politics That Makes Peace With the Beauty of Objects", New York Times, 2004-06-18.