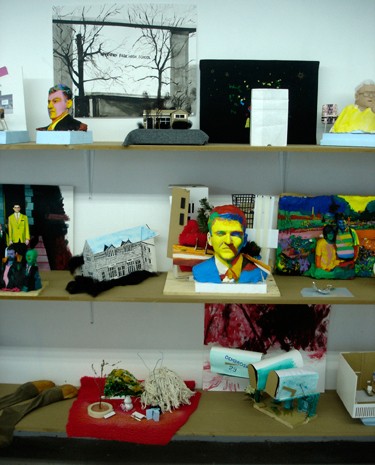 Everyday, banal, and occasionally boring, events can turned into something to wonder at. Ola Pehrson lays bare the technological structures that we all inevitably form part of. In several works, Pehrson problematises our relationship to the various forms and expressions of communications technology. The ones which govern our lives and create our patterns of living.
Pehrson has transposed swings on the NASDAQ exchange – in real time – to a sheet of music that is projected in front of a choir whose members provide each of the listed companies with a human voice. In another work, the power of television over information is demonstrated, as the captions do not always agree with what the individual on screen is saying.
What can we learn from picking something apart and putting it back together again? The police film reconstructions in order to investigate how the accused operated when a crime was committed. Pehrson's remake of the documentary film Hunt for the Unabomber is not just a revisiting of the world of Kaczynski the technophobe. It also becomes an examination of the truth content and credibility of documentary evidence when it has been made subject to a clever process of fictionalisation. The original sound-track becomes the thread which stitches all the bits into a whole.
The subjectivity of the documentary form is further intensified by the fact that Pehrson is solely responsible for the visualisation, roles and animations. The props are to be found in the exhibition space. Astonishingly accurate interpretations alternate with clumsy ones in ever increasing numbers. In this way they compose a picture of the impossibility of being able to reproduce entirely the total number of objects in the original film.
Ola Pehrson died on April 14, 2006.
Ola Pehrson
1964–2006
Born, lived and worked in Stockholm.
Education
1992–1997
Kungl. Konsthögskolan/ Royal University College of Fine Arts, Stockholm
1994
Hochschule der Kunste, Berlin [DE]
Selected solo exhibitions
2005
Galleri Lars Bohman, Stockholm
2002
Galleri Lars Bohman, Stockholm
2000
Art Statements, Basel [CH]
Selected group exhibitions
2005
9th International Istanbul Biennial, Istanbul [TR]
2004
Momentum, Moss [NO]
2003
Së bashku, Tirana Biennale, Tirana [AL]
Selected bibliography
November Paynter, 9th International Istanbul Biennial (utst.kat./exh. cat.), 2005.
Torild Gjesvik, Momentum (utst.kat./exh. cat.), Moss, 2004.
David Elliott, Organising Freedom (utst.kat./exh. cat.), Moderna Museet, Stockholm, 2002.