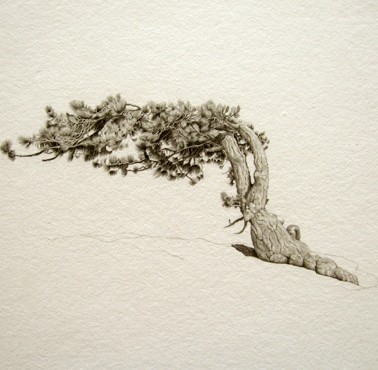 In scholarly and methodical fashion, Ann Böttcher explores the iconography of nature from a wealth of different perspectives. She studies the fir tree, for example, as a symbol for the establishment of territorial claims or national identities – encompassing everything from extreme nationalism to the very image of sadness and gloom.
In Den svenska serien (ett urval) (The Swedish Series: A Selection), she explores Swedish identity in relation to the history of the fir tree. She presents the documents she has put together about the shifts in the symbolic value of the fir tree in chronological sequence along a timeline, with her own drawings serving as the skeleton on which it hangs. Her sensitive and understated pencil drawings are meticulously executed and connect her to a romantic tradition of naturalism and the pictorial world of botany. Everything from stamps, newspaper articles, extracts from the law on common access to art historical references can be found along offshoots and at intersections. Political content can also be found in her slide-show installation Yosemite National Park (A Recollection of Wilderness), in which she illustrates the way the national park was created so that nature would both provide America with a collective history and identity and remind it of it
Böttcher shows how facts, myths, memories and values create a multi-dimensional image of what we believe nature represents. How human beings consciously or unconsciously construct the world around them by making it represent our ideas and desires, and the way in which this image is continually changing.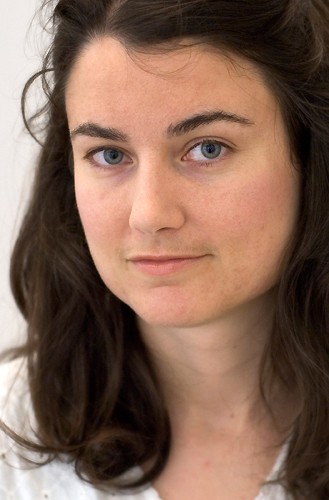 Ann Böttcher
Born 1973 in Bruzaholm.
Lives and works in Stockholm and New York.
Education
2001–2003
Konsthögskolan i Malmö/Malmö Art Academy, Malmö
1998–2001
Konstfack/ University College Of Arts, Crafts and Design, Stockholm 1997–1998 Nordiska Konstskolan, Kokkola [FI]
1996–1997
Östra Grevie Folkhögskola, Vellinge
Selected solo exhibitions
2005
Den svenska serien (i urval/selected), Den 1:a på Moderna, Moderna Museet, Stockholm
2004
Galleri Box (med/with Anna Ling), Göteborg/Gothenburg
2003
Yosemite National Park (A Recollection of Wilderness), Simon Says c/o Enkehuset, Stockholm
Selected group exhibitions
2004
Delayed on Time, Museum of Contemporary Art, Zagreb [HR]
2004
I linje… Svensk teckning under 100 år, Liljevalchs Konsthall, Stockholm
2003
Le Songe d'une nuit d'été, Magasin 3 Stockholm Konsthall/ Centre Culturel Suédois, Paris [FR]
Selected bibliography
Provisorium, Rooseum #1/2005.
Delayed on Time – One View on the Contemporary Art Scene in Sweden (utst.kat./exh. cat.), Museum of Contemporary Art, Zagreb, 2004.
Sophie Allgårdh/Estelle af Malmborg, Svensk konst nu. 85 konstnärer födda efter 1960, SAK/Wahlström & Widstrand, 2004.