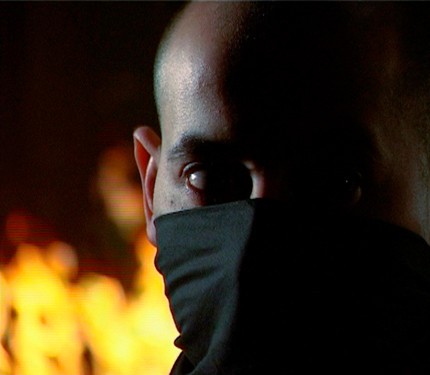 It is easy to lose your grip on time and space when looking at one of Annika Larsson's films. The stories are intricately interwoven with the electronic music of the sound track, which has frequently been composed in collaboration with the artist Tobias Bernstrup. Moving images are mixed with stills, while close-ups on both significant and insignificant details are a prominent aesthetic component.
Through the camera lens we are able to follow Larsson's almost fetishistic gaze as it completely undermines various postures and invalidates all notions of a comprehensive view or picture. Rules or codes, secret or not, serve as backdrop to a power-play characterised by the spine-tingling interplay between dominance and subjection.
Larsson plays cleverly with the desires of the viewer and makes use of the kind of seductive (and/or dictatorial) idiom often associated with advertising, and used by it. Our thirst for visual pleasures is frequently linked to a longing to understand and when an image is clichéd, it reflects the viewer's predetermined ideas about what is being represented. When the cliché is partially transformed into something else, the image immediately acquires an ambiguous quality. Larsson is discussing the power inherent in aesthetic codes and how they are manifested, while demonstrating an explicit ambition to mock the viewer's expectations and challenge the prejudices of the gaze.
Annika Larsson
Born 1972 in Stockholm. Lives and works in New York. [US]
Education
1995–2000
The Royal University College of Fine Arts, Stockholm
Selected solo exhibitions
2004
Kunsthalle Nürnberg, Nürnberg [DE]
2003
Museum für Gegenwartskunst, Basel [CH]
2002
ICA, Institute of Contemporay Art, London [GB]
Selected group exhibitions
2004
Fast Forward, Media Art Sammlung Goetz, ZKM, Karlsruhe [DE]
2003
Poetic Justice, 8th Istanbul Biennial, Istanbul [TR]
2001
SETS – Performing Surfaces, Annika Larsson, Michael Elmgreen & Ingar Dragset and Année Olofsson, IASPIS, 49th Venice Biennale, Venice [IT]
Selected bibliography
Philipp Kaiser, Abigail Solomon Godeau, Annika Larsson (exh. cat.), Basel/Christoph Merian Verlag, Basel, 2003.
Annika Larsson Diary #2, Simona Vendramne (ed.), Tema Celeste Editions, Gabrius S.p.A, 2003.
Gigiotto Del Vecchio, Caroline Corbetta, Annika Larsson – Dog, Centro de Arte de Salamanca, Consorcio Salamanca, 2002.
More about this exhibition