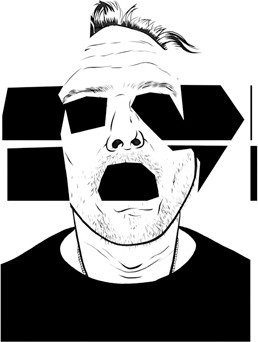 With playful creativity, Ola Åstrand seeks to manage the wave of impressions that wash over contemporary man. There is a sense of aggression in the images owing to the frustration experienced at attempting to make the chaos of the contemporary world more dealable with.
Åstrand works with various techniques – drawings, installations and paintings – and executes them in a form of collage-work that calls the sampling and cut-and-paste culture of today to mind. There is something both self-exposing and universalising about his way of presenting new angles of approach and the fact that he draws conclusions about social phenomena, which taken together lends his art a political dimension.
In Skymningslandet (The Twilight Country), Åstrand illustrates the anxiety-ridden alienation brought about by the relentlessly heightened pace of our age. He fragments elements of the everyday into a jumble of clichéd dream images, consumer frenzy and performance anxiety, in which stress-related symptoms are managed with prescription drugs. With sensitivity and sympathy, he succeeds in capturing the small child who can do nothing but pull faces in protest.
Åstrand mixes together the differing aesthetics of high and popular culture. There are references in his work to comics, kitsch air-brushed portraits and the poster and billboard art of the 1960s. Like a kind of contemporary pop artist, he is interested in the phenomena of late capitalist mass culture, where the private has become part of the public and the playful and the mad can be a deadly serious form of protest.
Ola Åstrand
Born 1959 in Helsingborg.
Lives and works in Gothenburg.
Education
1986–1991
Valand School of Fine Arts, Gothenburg
Selected solo exhibitions
2005
Vit limousin, Dunkers Kulturhus, Helsingborg and Göteborgs Konsthall, Gothenburg
2001
McMemories, Skånes Konstförening, Malmö
1994
Hur Unga Män Dör, Galleri TRE, Stockholm
Selected group exhibitions
2004
This Sweet Sickness, Rhodes + Mann, London [GB]
1993
Overground, Världsutställningen 1993, Göteborgs Konsthall, Gothenburg
1990
Tack Så Mycket, Galleri Overgaden, Copenhagen [DK]
Selected bibliography
Pladask, Bakhåll, 1983.
Drömdagbok, 1995.
Monster, samlarkort med Clemens Altgård, 2001.
More about this exhibition