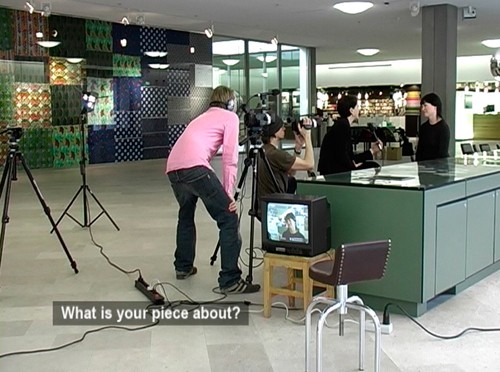 The notion of credibility – how it is created and maintained – is as a key point of departure in several works by Saskia Holmkvist. In Make Believe, 2004, a work on video, a magician is displayed on four monitors. His hands are shown in close-up and the viewer can also see an overall view of his performance and his words translated into text. In the background can be heard the sound of the conjuring itself. By fragmenting the experience Holmkvist makes visible the ambiguity that surrounds the magic-show – we want both to be carried away by the illusion and to see through it.
Interview with Saskia Holmkvist, 2005, is an interview with the artist in which she talks about the film we are just about to see. She explains that it is about issues to do with credibility and authenticity. But she is interrupted by the interviewer who, instead of asking the next question, comments on her body language and her manner of expression. The whole thing turns into a tortuous process in which the Saskia Holmkvist in the film tries to comply with the admonitions of the "coach". This work is commenting on an art scene which is under such intense pressure and where success is increasingly dependent on a professional presentation of one's own artistic achievements. At the same time it is mirroring a trend in society as a whole, in which the ego is becoming more and more of a trademark and apparently spontaneous comments and documentary images are the product of meticulous repetition and reconstruction.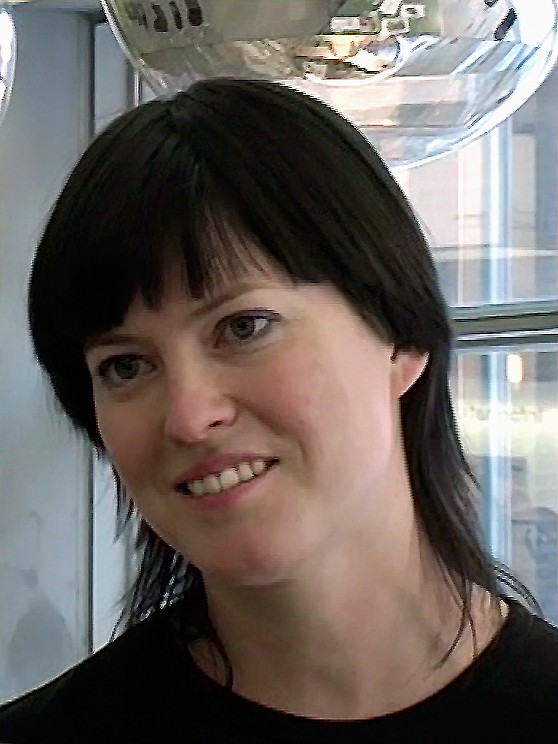 Saskia Holmkvist
Born 1971 in Stockholm.
Lives and works in Stockholm.
Education
2000–2004
Konstfack/University College Of Arts, Crafts and Design, Stockholm
1999–2000
Gerrit Rietveld Academy, Amsterdam [NL]
1997–1999
Pernby Målarskola, Stockholm
Separatutställning/ Solo exhibition
2005
IASPIS, Stockholm
Selected group exhibitions
2005
Narrow focus, Tranzit, Bratislava [SK]
2005
Mörklagd 1+2, Signal, Malmö
2004
Commotion, Picture This – Moving Image, Arnolfini, Bristol [GB]
Selected bibliography
Vid regnbågens slut, (utst.kat/exh. cat.), Tumba Bruksmuseum, Tumba, 2005.
Tidskriften Fabrik#2–3/2005. Greyscale/CMYK, Tramway (utst.kat./exh. cat.), Glasgow, 2002.
More about this exhibition