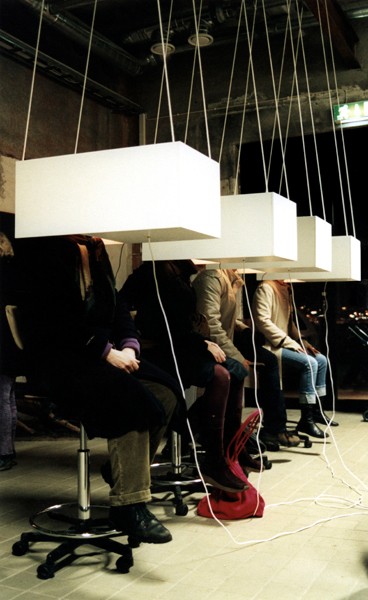 Linda Tedsdotter often makes use of light and sound in her artistic creations. Her works can be site-specific or relate in some other way to the situation and the context they form part of. Using small-scale visual means, her sculptural installations entice the viewer to participate in a way that is perceptibly controlled.
These minor interventions in the environment have their origins in the artist's close relationship to nature, and they require considerable attention and sensitivity on the part of the viewer.
In the work Missing Steps Tedsdotter excluded sound rather than creating it. On a museum staircase in Zagreb, she covered particular steps in wall-to-wall carpet. The carpet was the same colour as the wooden step in order to take the viewer by surprise. However, once this change had been discovered and the staircase walked on once again, the viewer realised that Tedsdotter had created a special rhythm between the sound of feet hitting the ordinary and the silenced steps.
Terapi 2006 (Therapy 2006) consists of a series of sound-sculptures that offer the user both light and love therapy. Viewers sit with their head inserted in a box – a sort of benign brain-washing machine – listening to a voice telling them what a marvellous person they are. The installation has been created to be used during Sweden's dark and depressing winter period.
There is frequently an element of surprise in the work of Tedsdotter and an element of deliberate manipulation or illusion intended to intensify the presence and self-awareness of the viewer.
Linda Tedsdotter
Born 1975 in Arjeplog.
Lives and works in Gothenburg.
Education
1996–2001
Valand School of Fine Arts, Gothenburg
2000
Exchange student San Fransisco Art Institute, San Fransisco [US]
1994–1996
Konstlinjen, Nordvästra Skånes
Folkhögskola, Munka Ljungby.
Selected solo exhibitions
2005
Innanför, utanför, här eller där, Bob Kellys Videolounge, Röda Sten, Gothenburg
2002
Vinden, Sub Bau, Gothenburg
2000
One Way, Galleri Rotor, Gothenburg
Selected group exhibitions
2004
Delayed on Time, Missing Steps, Museum of Contemporary Art, Zagreb [HR]
2004
Mörkrets hjärta, Pyramid, Göteborgs Konsthall, Gothenburg
2003
Periscope, Kaohsiung International Art Festival 2003, Kaohsiung [TW]
2003
Definitely maybe, Therapy 2003, Istanbul [TR]
Selected bibliography
Astrid von Rosen, Göteborgs-Posten. Kultur, 2005-04-07.
Nada Beros, Delayed on Time (utst. kat./exh. cat.), Museum of Contemporary Art, Zagreb, 2004.
Jonas Ingvarsson, Paletten, Ljudkonst, #245-246, 4-5/2001.