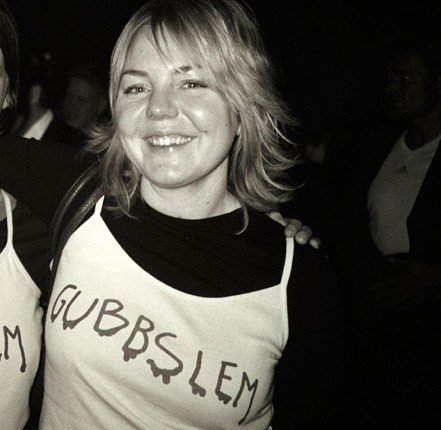 Fia-Stina Sandlund explores the social structures of power and the concept of normality. In humorous fashion she calls existing systems into question and clearly repudiates all forms of repression and inequality.
She is actively committed to putting forward her political views both within the art world and on the media stage. There is a clear feminist perspective at work in several of her activities and the works of art she produces, like her journalist work, frequently have a documentary aspect.
As part of Sandlund's sound installation, Konstnärsklubben (The Artist's Club, a club in Stockholm that has only been open to men since 1856), she rings up the members and asks them why, for example, women cannot become members. The conversations reveal the underlying values the club is based on and still maintains. As a member of the group Unfucked Pussy, she carried out a campaign against the Miss Sweden competition in the form of a demonstration with banners carrying the legend "Gubbslem" (Bloke-slime).
The starting-point for Sandlund's most recent project was that she was telephoned by Panos Emporio, the swimwear designer, who had bought the rights to Miss Sweden. Despite the fact that they represent totally opposite moral viewpoints, what the conversations make clear are that the similarities between their actions are considerable – the way in which they both exploit their power strategically to achieve their particular goals.
In her art, Sandlund demonstrates that it is possible to influence society and acquire a position of power by employing strategic and rhetorical devices.
Fia-Stina Sandlund
Born 1973 in Stockholm.
Lives and works in Stockholm.
Education
2000–2003
University College of Arts, Craft and Design, Stockholm
1998–2000
School of Photography and film at Göteborg University, Gothenburg
Selected solo exhibitions
2004
Aktionsverket, performance Auktionsverket, Stockholm
2004
Socialismens väg, radio documentary for SRc, www.sr.se/src/podradio
2004
Att Göra: Write a Popsong, Galleri Box, Gothenburg
Selected group exhibitions
2005
Capital (It Fails Us Now), UKS, Oslo [NO] and Kunstihoone, Vilnius [LT]
2005
Radiodays, De Appel, Amsterdam [NL]
2004
Svenska Hjärtan, Moderna Museet, Stockholm
Selected bibliography
Anna Nyström, Feminismen bubblar under ytan, Riksutställningar #4/2004.
Sophie Allgårdh/Estelle af Malmborg, Svensk konst nu. 85 konstnärer födda efter 1960, SAK/Wahlström & Widstrand, 2004.
Magdalena Malm, "Fia-Stina Sandlund", Svenska Hjärtan (exh. cat.), Moderna Museet, Stockholm, 2004.