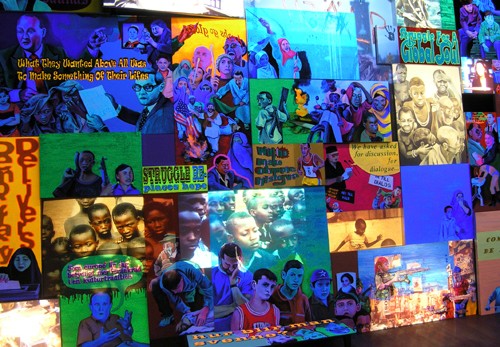 Monika Marklinger's artistry is characterised by a desire to combine various elements and themes. Using overlapping and shifting images, she creates complicated pictorial constructions in which painting and photography, objects and projections, texts and images are brought together. A platform is created between the individual and society in her work, whose focal point is the craft process – which takes on a political dimension as a result.
In Everything is Political (2002), Marklinger put together images and political slogans from the history of electoral campaigns in Sweden. She then had Indian poster-makers in Bangalore translate the material, which had been on display at an exhibition shortly before the parliamentary election a stone's throw from the Cabinet Office. Through the transfer to another culture, the ideological messages acquire new meanings. They also take on deeper significance as a result of being subject to a patently manual production process. This work makes visible the real conditions of production that form the foundation of our day-to-day lives and asks questions about whether a common value-system is at all possible at the global level.
In Struggle for a Global Soul (2005), Marklinger creates an installation out of UV-painting and slide projections. Texts sampled from the mass media, such as "The Failure of Integration" and "Rising Frustration", are ranged alongside images from the world's various areas of conflict. As the viewer comes closer to a projected image, the light source becomes blocked and the image below comes into view. This work is of key importance in Marklinger's oeuvre as it creates a synthesis of illusion and reality, of the public flow of images and our individual stories.
Monika Marklinger
Born 1968 in Jönköping.
Lives and works in Stockholm.
Education
1998–2002
The Royal University College of Fine Arts, Stockholm
1997–1998
Valand School of Fine Arts, Gothenburg
Selected solo exhibitions
2005
Galleri Flach, Stockholm
2004
Teatergalleriet, Uppsala
2002
Galleri Mejan, Stockholm
Selected group exhibitions
2004
Read Me, The County Museum of Gotland, Visby (in collaboration with Johan Waerndt)
2003
Art Forum, (Galleri Flach), Berlin [DE]
2002
Galleri Andréhn – Schiptjenko, Stockholm
Selected bibliography
Magdalena Dziurlikowska, "Bångstyrigt och sevärt", www.konsten.net, 2005-09-11.
Frida Arnqvist, "Underfundig kodnyckel", Upsala Nya Tidning, 2003-12-23.
Geetha Rao, "City Billboards Go To Sweden", Times of India, 2002-08-13.